United States
In Améxica, commuting requires patience and a passport
On the U.S.-Mexico border, residents are at the mercy of checkpoints that can take hours to cross.
21 Jul 2016 – 04:10 PM EDT
EL PASO, Texas – Alfonso Rodríguez often feels he has the world's longest and slowest commute. To get to his job at an El Paso flower shop, he spends up to 90 minutes walking across a bridge less than half a mile long from Ciudad Juarez in Mexico. By car, the crossing can take three hours.
The 24-year-cashier lives in Mexico and works in the United States. "It's really common to get to work late here because of the crossing," said Rodriguez, adding that delays have grown somewhat shorter in recent weeks.
Complaints about delays at the crossings are common in Améxica, the nearly 2,000-mile-long border region between the United States and Mexico home to more than 14 million people.
In 2015 alone, more than 40 million people walked into the United States through its southern border, according to the U.S. Customs and Border Protection agency. More than 680,000 enter the United States each day along U.S. land borders with Mexico and Canada – on foot, in cars or on buses.
Forty-four out of every 100 border residents say that the time spent crossing the border has increased in the last five years, according to a poll by Univision, the Dallas Morning News and Cronkite News at Arizona State University. Another 33 percent said wait times haven't changed.
It takes an hour to drive across a bridge, sometimes up to two or three hours. It's time spent looking at Facebook, talking on the phone, singing, talking and buying drinks from some of the street peddlers who walk between vehicles.
Despite fences and border controls, Améxica comprises huge bi-national urban areas such as San Diego/Tijuana, Laredo/Nuevo Laredo, Yuma/San Luis Colorado, Brownsville/Matamoros and the biggest of all, El Paso/Ciudad Juarez.
Is the last five years, has the amount of time you've spent waiting to cross the border increased or decreased?

In Nogales, Arizona, the majority of residents think wait times have increased.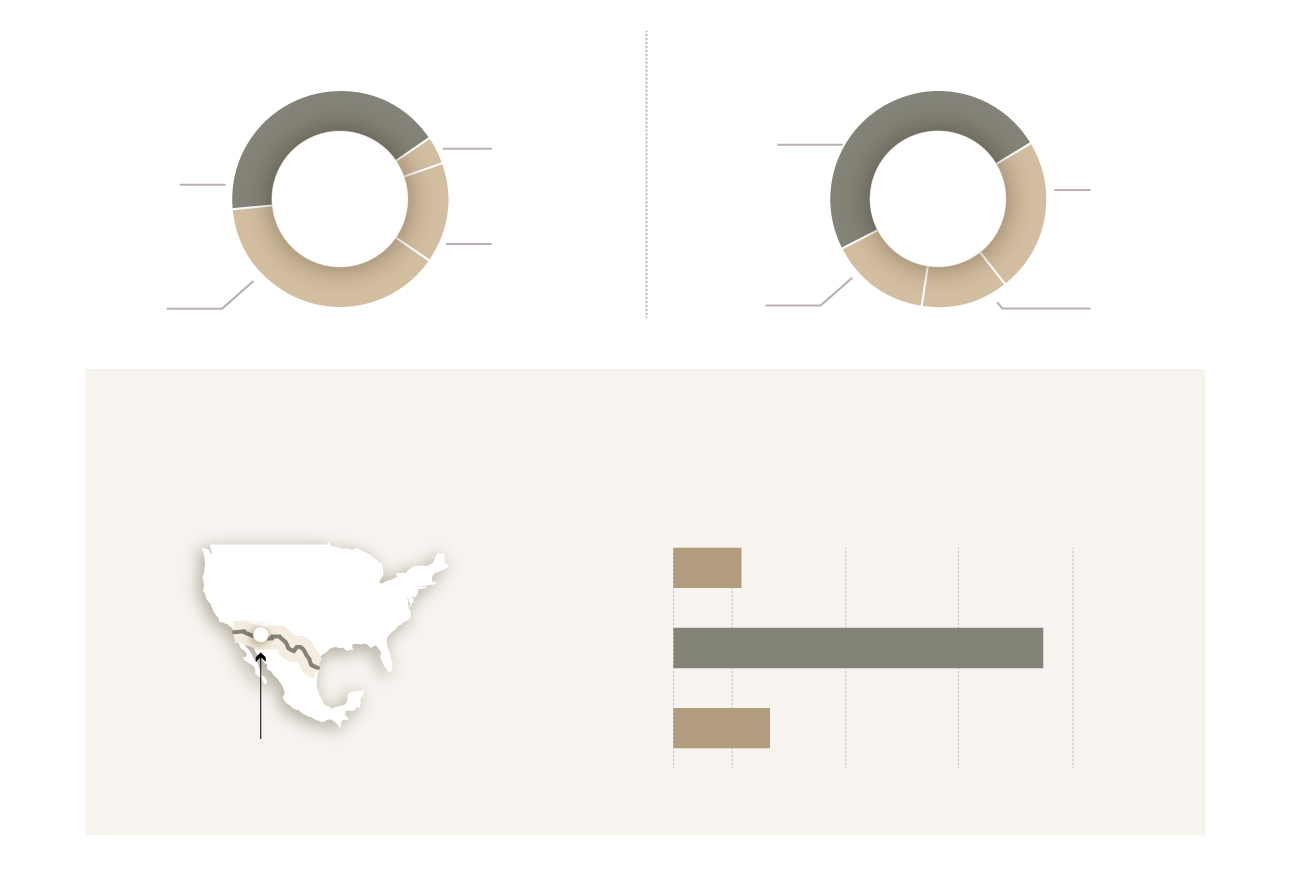 In Nogales, Arizona, the majority of residents think wait times have increased.
"Border cities depend on their connectivity to the other side for their economy, their social and family connections," said Christopher Wilson, deputy director of the Mexico Center at the Wilson Center think tank in Washington, D.C.
According to the poll, nearly three-quarters of border residents agree, saying their towns depend on the sister city across the border.
However, getting from one city to another can be time-consuming, especially during rush hour.
The Santa Fe bridge between El Paso and Juarez is jammed with people and vehicles every morning.
Residents along the Arizona-Sonora border had the highest number of complaints about crossing delays. A majority said the wait has grown worse. Many complaints also came from San Ysidro in California, Nuevo Laredo in the Mexican state of Tamaulipas, and El Paso and Del Rio, both in Texas.
It's common for border residents to carry a passport, wait in long lines and answer questions from border agents, since thousands cross the border to work, shop, or visit relatives.
Arturo Agalís runs to a bus that takes him to his job at a radiator shop in El Paso. "It takes me 30 minutes to go through customs," he said. Lili Reyes said she spends about the same amount of time to get to the sporting goods store where she works five days a week. Rosa López, a university student, said it takes her an hour or more to cross.
In El Paso, people crossing the border reported reduced wait times in recent weeks because of the opening of new access lanes, an apparent increase in the number of U.S. agents and the express lanes for holders of SENTRI permits – Secure Electronic Network for Travelers Rapid Inspection.
Still, earlier this month, some of the vehicle crossings reported average delays of 30 to 50 minutes. Some of the crossings in El Paso and Eagle Pass in Texas and Calexico in California reported the longest averages, according to border patrol online records analyzed by Univision News.
"The long and unpredictable delays increase the cost of doing business, discourage people from crossing to shop in El Paso and create hassles for visiting relatives and friends," U.S. Rep. Beto O'Rourke (D-TX) said in an email. Several studies have shown that every minute of delay on the border can have a million-dollar economic impact.
O'Rourke recently asked border residents to alert him to border delays and abuses on Twitter. Using the hashtag #EPbridges, border residents reported waits of 20 minutes, 45 minutes, one hour and even two hours.
But it's not just the traffic that makes the border crossing difficult.
A May report by the American Civil Liberties Union of New Mexico complained of "abusive treatment" by border agents who used "excessive force, verbal abuse, humiliating searches and intimidation to coerce individuals into surrendering their legal rights." Congress has held hearings on other complaints, but the U.S. border patrol has said the reports are isolated and are always investigated.
At the bridge between Ciudad Juarez and El Paso, many people crossing have U.S. citizenship or residency, which gives them access to express lanes and fewer questions from border agents.
Others have little-known documents called laser visas, crossing permits or local visas. They allow Mexicans who live along the border to enter the United States to shop or walk around, but they must remain within several miles of the border. Some work illegally as gardeners or maids, and it's not unusual to see U.S. border agents grilling people to make sure they are crossing for legitimate purposes.
Sara Ortega, 27, said that in El Paso, "some agents are very rude and others are very friendly." Once, she was stopped by agents who asked her: "Why are you so lazy? Why don't you have any money? Why don't you work?"